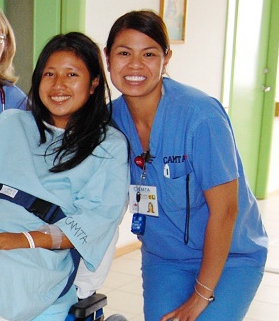 In September 2012 I was invited to join the Canadian Association of Medical Teams Abroad Mission 2013 as a paediatric ward nurse. The following is an account of my incredible experience volunteering with CAMTA.
Each year CAMTA sends two teams of medical and non-­medical volunteers to Quito, Ecuador to perform orthopedic surgeries on adult and pediatric patients. These surgeries transform lives and give hope to many people allowing them to live pain-­free and without disability. These patients desperately need the surgeries but cannot afford it, so CAMTA works in tandem with the Tierra Nueva Foundation in Quito and operates in the Foundation's new hospital, 'Un Canto a La Vida' to make this all possible. CAMTA does not charge the patients although everyone is required to pay a nominal fee to the hospital which is determined by the local social worker and is based on each family's situation. Currently CAMTA performs as many as 80 surgeries in a two week period.
Every team member volunteers their own time and raises $2600 to meet the travel expenses. The money raised not only helps to cover these costs but it helps provide CAMTA with much needed supplies and equipment. This year CAMTA's budget was $400 000 and within a three month period, I was able to fundraise over $2800.
This was my very first mission with CAMTA and like many others on the team I anticipated many successful surgeries and recoveries. It is a great joy for me to share these stories and show how we have made a difference in the lives of few Ecuadorians. My experience with CAMTA was incredibly rewarding and it was an absolute delight getting to know the Ecuadorian children and their families. I felt very privileged to have shared my time with the community and to have gained perspective of their everyday reality and the personal struggles they each face.
The days were long and the work was challenging however I still get that CAMTA 'buzz' just sharing with others the life-­changing stories I was witness to and overall the amazing experience I had. There were many stories that pulled on my heart strings yet I was constantly uplifted and inspired by the perseverance and strong will that each patient displayed, both children and adults. I have come away from this mission with the lesson to be reminded that courage and strength lies in many shapes, forms and even comes in the smallest of packages.
Volunteering as a paediatric ward nurse one really learns to be resourceful when we do not have access to equipment and supplies that we are accustomed to here at home. You must learn to be crafty, innovative and many times start very basic. Automated machines and elaborate medical supplies are indeed a luxury that we often take for granted every day at work. Too often we take, we use and we dispose without even contemplating the scarcity and lack of elsewhere. At the end of the day, you learn to be more mindful and to appreciate what we are given.
I joined the second half of the mission without knowing anyone on the team and returned home having made lifelong connections with extraordinary people. It was amazing to see how well we performed together and to see all the dedication and passion that was being poured into all the work being done. Every member of the team from the translators to the surgeons and nurses, from logistics to the physiotherapists and even our lay volunteers that helped to wash and sterilize surgical instruments, we were all significant players and served an essential role necessary to have a successful mission.
I am very grateful for the opportunity to volunteer with CAMTA and for all the support given towards the project. I was able to provide quality nursing care in an international setting and cultivate cross-­cultural interactions. This was a possibility for growth both professionally and personally. With every journey that we embrace we are given the chance to evolve and transcend any limitations we encounter along the way. This mission has become a milestone in my nursing career and has further helped to fuel my passion in becoming more involved with global health and humanitarian aid. It has motivated me to focus on what matters the most and to grow into the nurse that I am called to be and to continue to do something that would benefit the world in an impactful way.
Dianne Cortez, RN BScN
United Nurses of Alberta
Canadian Association of Medical Teams Abroad
https://camta.com/wp-content/uploads/2020/03/Dianne-Cortez-with-Monica-Delsi.jpg
366
279
CAMTA
https://camta.com/wp-content/uploads/2020/01/logo.png
CAMTA
2020-03-02 23:20:48
2020-10-14 14:32:38
One Volunteer's Story