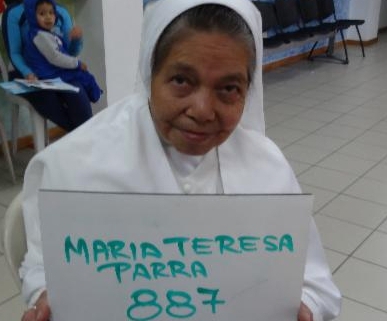 Sister
Teresa Parra will make you believe in miracles! 
 This 73 year old nun has had a long and interesting life. When she was born, her mother gave her to a family that had no children. She lived with this family until she entered the convent at age 25. As a nun, she spent 30 years in the Amazon jungle cooking for 80 priests and nuns. Now living in Quito, she travels throughout her parish, bringing communion twice a week to those who cannot get to Mass.  She is responsible for the Adoration Chapel in her church – cleaning and decorating it, and praying continuously. She believes the pain in her hip was the result of a life spent kneeling in prayer. 
In 2014, her pain became unbearable. Her superior, Sister Teresa Sotomayor, brought her to Emergency at Un Canto de la Vita. The hospital social workers, who decide who will be assessed at the CAMTA Clinic, felt that Sister Parra was too old for surgery. The nuns were devastated. Dr. Manuel Ordonez, the hospital's orthopedic surgeon knew that CAMTA would be coming in two days. He suggested that the sisters of her Community pray to Father Corolla, the late founder of the Tierra Nueva Foundation, and the dynamo behind the building of this hospital. The sisters prayed that the CAMTA team would help Sister Maria Teresa.  
The two nuns were in the Clinic waiting room when we arrived early Sunday morning; Sister Maria Teresa was one of the last patients we saw . These two nuns firmly believe that through Father Corolla's intervention, God brought them to the hospital just before the team from Canada arrived, and moved the surgeons to choose her for surgery. She had her hip replacement surgery the next day.  
Student Nurse Amanda English followed this feisty woman from her assessment in Clinic. She observed her surgery, and was assigned to her when she returned to the Ward. Amanda says' "She prays for us and blesses us all the time… and she always wants us to take care of the patients in the other beds first."
 The sisters will continue to pray for the people of CAMTA – "for the wisdom and health to keep going."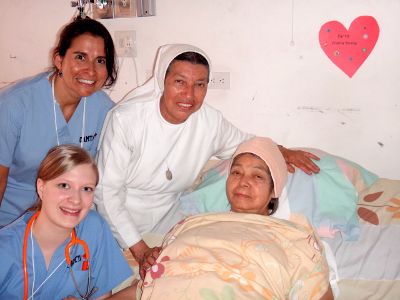 https://camta.com/wp-content/uploads/2020/03/a6fa34e5-81a4-4e2d-9fc5-2ba489ecc23f.jpg
387
387
CAMTA
https://camta.com/wp-content/uploads/2020/01/logo.png
CAMTA
2020-03-02 23:27:22
2020-10-14 14:32:38
A CAMTA miracle