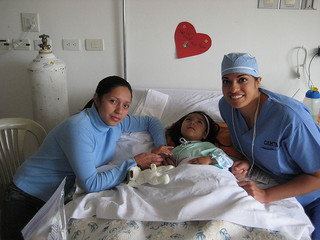 by Alia Karmali
Jocelyn came to us at age five. Joselyn, who had a normal birth, suffered viral encephalitis at six months of age. This caused convulsions which left her blind. Months later she was stiff and couldn't move so she was taken to a rehab hospital. Although she no longer has convulsions, she can't walk and there has been no progress in her status.
When she was four, she was seen by a doctor at the San Juan Children's Foundation who told her mother, a seamstress, that Joselyn would need surgery.
Joselyn's mom and Alia watch over her
She was operated on by the CAMTA team in 2011. The surgeons operated on both thigh bones and performed tendon releases so that Joselyn's legs could move better.
Although blind, Joselyn is a very happy and sociable five-year old. She may not understand what you are are saying or doing, but she can tell that you are there and will hold your hand and giggle like any other child her age when tickled.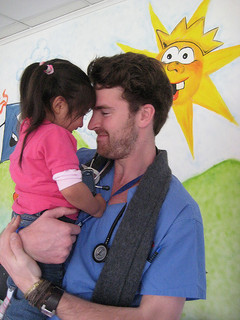 Joselyn's journey to CAMTA and her mom's perseverance have touched the hearts of many CAMTA members. They have been a personal inspiration for me. Because this was my first year with CAMTA, following this one patient was an emotional experience. But it has also been an amazing opportunity to see how CAMTA's work can benefit this little girl's future. I have never felt more privileged than to have met this special girl and to be a part of her journey.
Joselyn and Matt Moreau (Logistics Co-ordinator over several missions)
https://camta.com/wp-content/uploads/2020/03/5494233745_cbf50684c8_n-1.jpeg
240
320
CAMTA
https://camta.com/wp-content/uploads/2020/01/logo.png
CAMTA
2020-03-02 23:19:32
2020-10-14 14:32:38
Joselyn's Story