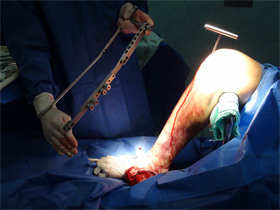 Orlando Benefits from the SIGN Nail System
Squeamish Alert: some photos in this post show blood and surgery!
One day 25-year old Orlando fell while carrying milk on his back down a mountain. He broke his lower leg. While in many parts of the world we assume that we will receive medical care after such an accident, this is not a guarantee in Ecuador. Without surgery, the healing time would have been prolonged and his walking ability compromised.
Orlando's family works on a farm near Caja, high in the mountains above Cuenca in Ecuador. Orlando is the eldest of six children. The family is very poor and needs every member to be able to work in order to support themselves.
In 2011 a SIGN Nail (Surgical Implant Generation Network) was inserted into Orlando's leg to straighten it to allow him to walk again. This was the first procedure where CAMTA used SIGN Nail in Ecuador. Dr. Patricio Rojo inserted the nail under spinal anesthesia, with CAMTA Dr. Don Weber scrubbing in to assist. Dr. Telmo Tapia, an orthopedic surgeon who represents CAMTA's SIGN Nail program in Ecuador provided advice during the surgery. This was the second procedure where CAMTA had used SIGN Nail in Ecuador.
Thanks to CAMTA's use of the SIGN Nail system for treatment of his fracture, after a brief recovery period,  Orlando was able to return to work and to be a contributing member of his family.
SIGN frame with nail adjacent.
Insert Photo 3
The SIGN frame aligns the drill with the slot in the nail.
https://camta.com/wp-content/uploads/2020/03/firstsign01.jpg
210
280
CAMTA
https://camta.com/wp-content/uploads/2020/01/logo.png
CAMTA
2020-03-02 22:57:13
2020-10-14 14:32:38
Orlando Benefits from the SIGN Nail System